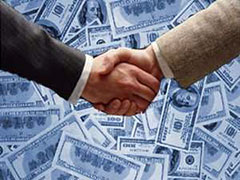 No load mutual funds do not have commissions associated with them
No load funds offer many benefits that load mutual funds can not
There are many reasons to choose no load mutual funds for your investment capital
No load mutual funds offer many benefits that are not offered by other investment opportunities. Some of these can include:

1. Professional Management Of Your Investment
Mutual funds, both load mutual funds and no load funds, offer you professional management for your investment capital. The managers receive payment for their services from the management expense of the fund. Using a no load fund instead of a loaded fund will give you this management at a lower total investment expense. A professional manager usually means better financial decisions.

2. No Load Mutual Funds Cost Less
No load mutual funds do not have the commission, or load, that comes with loaded funds. The load is simply the percentage of your investment capital that is paid to the financial advisor or other middle man who will decide which funds to place your capital in. This means that the load is deducted from your money before it is invested.

3. Load Mutual Funds Reduce The Future Compound Interest Value
When you pay a load for a mutual fund investment, this amount is taken before any capital is invested. If you have one hundred thousand dollars and the load fee is five percent, you will pay five thousand dollars and have ninety five thousand dollars invested. Over thirty years, this will add up to eighty five thousand dollars less in investment value because of the lower amount of interest due to the load fee.

4. No Load Funds Are Well Diversified
No load mutual funds, just like all other mutual funds, are normally well diversified. This means that these funds offer better protection against huge losses in the portfolio, so your investment capital is preserved better. This will help you keep your investment money safe.

5. No Load Mutual Funds Are Convenient
Mutual funds are very convenient and may make investing much simpler. Unlike owning individual stocks and bonds, and investment in mutual funds offers you a share of a portfolio that is already diversified. One investment amount can provide a number of different holdings that are well diversified. There is no need for you to do extensive research on each individual stock or bond.

6. No Load Mutual Funds Offer Better Performance
Mutual funds which have no load usually perform better when all the costs and expenses are factored in. Even though the compared funds may have the same yields before the load is factored in, the cost of the load will lower the performance. This means that no load mutual funds are better when it comes to performance.

7. No Load Mutual Funds Offer More For Less
Mutual funds can offer more bang for your investment buck. Because mutual funds are pools of investment funds, there are much larger amounts available. This means even a small investment amount will see huge benefits from the funds being pooled together.

8. No Load Funds Are Usually Extremely Liquid
No load and load mutual funds are usually very liquid. This means that you can cash out your investments and access the capital usually within just a few days. Many stocks and bonds that are popular investment choices may be hard to liquidate, but this is normally not a problem with mutual funds.

9. No Load Mutual Funds Allow You To Change Investments With No Commissions
No load funds mean that planning for all your life cycle needs is easier and costs less. Because there are no load fees when you buy or sell your shares, you can change your investments through your life as your needs change without having to pay a penalty or large commissions and fees.

10. Load Mutual Funds Cost More But Offer Fewer Benefits
Load mutual funds cost more because of the commission charged by the broker, advisor, or other third party that is involved. Because of this these funds cost more and are not as flexible as no load mutual funds, and they will lower the total investment value that you have. Because of this smart investors stay away from load fees.