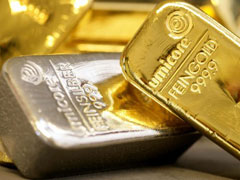 There is a great deal of beginner investors who want to invest in gold and silver, but they are not quite sure where to start. If you are one of them then you have come to the right place. With the bull market maturing, an increasing amount of ways have emerged to invest in gold and silver. The following article can be considered a comprehensive guide to investing in gold and silver:

1) Gold and Silver Exchange Traded Funds (generally known as ETFs): This is a relatively new way to invest in gold and silver, but it makes it very easy for you to make a direct investment. The ETF prices fall and increase in direct correlation with the underlying gold price. The silver-only ETF is an even newer phenomenon, and it tracks the silver price in a similar way as the gold fund.
2) Gold and Silver Mutual funds: This is the next option in our guide to investing in gold and silver. There is a wide variety of mutual funds that invest in the precious metals sector. They invest either directly in gold and silver, or in gold and silver mining. One example is Bernies Gold and Silver Fund, which is a mutual fund that is known to invest in both gold and silver on an international scale.
3) Gold and Silver Mining stocks: On the current bull market you will get the most leverage through the purchase of gold and silver mining stocks. Nevertheless, it is important to keep in mind that buying these stocks also carries a large amount of risk, since you will have to deal with all the mining operation risks. In addition, you will probably end up investing in some companies that are just beginning to explore new gold deposits, which is quite risky in itself, but your portfolio could get quite a boost from it if discoveries are made.
4) Gold and Silver coins: This is the next best way to invest in gold and silver. The coins can be purchased directly from brokers, or you can get them on a site like www.investmentrarities.com. Rather than investments, these are more like safe havens for the long term, but it is a good idea to have at least a few of these.
5) Direct Sales: This is a good trick to know, and it is the last point in our guide to investing in gold and silver. You should find sellers who will sell you silver as close to their spot price as possible – this entails a fee, but it is usually very reasonable. Usually, the rule is that the more silver you buy, the less fees you will pay.
For more information, go to:
en.wikipedia.org/wiki/Silver_as_an_investment,
en.wikipedia.org/wiki/Gold_as_an_investment