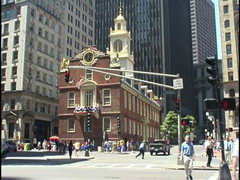 Massachusetts municipal debt no load funds offer income tax exemptions on more than one level for residents of this state
No load bond funds and no load index funds may be intended for individual investors or for institutional investors
No load municipal debt mutual funds can be a wise investment choice
Massachusetts municipal debt no load funds are mutual funds which invest in municipal debt that originates in the state of Massachusetts. Municipal debt management and investing can include both no load index funds and no load bond funds, depending on whether you choose to have your investments passively managed or actively managed. There are a number of no load funds that are intended for residents of Massachusetts, because these funds offer tax advantages and exemptions for them. When it comes to municipal debt investments, they are exempt from federal income tax, and state as well as possibly local income taxes if you are a resident of the issuing municipality. This leads to double or even triple tax exemptions, and that is nothing to ignore, especially if you are in a higher income bracket. Investing in Massachusetts municipal debt mutual funds is a smart financial choice, because mutual fund investments offer more diversity than simply investing in a single municipal debt bond. Mutual funds are professionally managed pools of investment capital from many different investors, and these pooled funds are used to help lower the expenses for investors by allowing large bulk transactions.
There are many Massachusetts municipal funds to look at, and one of these is the Columbia Fds Srs Tr I, Massachusetts Intermediate Muni Bond Fund Cl Z, with a ticker symbol of SEMAX. Another municipal debt no load bond fund which offers advantages to Massachusetts residents is the Vanguard Massachusetts Tax-Exempt Fund, with the symbol VMATX. If insured municipal debt no load funds are attractive, there is also the Nuveen Massachusetts Insured Muni Bd Fd Cl R, ticker symbol NIMAX, to consider. Another great Massachusetts municipal debt no load fund that should be in the list of possible funds is the Dreyfus Massachusetts Fund Class Z, with a trading ticker symbol of PMAZX. The Nuveen Massachusetts Muni Bd Fd Cl R is also a great investment for Massachusetts residents, and it trades under the symbol NBMAX. These funds are all mainly aimed at individual investors, but this does not mean institutional investors can not also take advantage of the unique tax exemptions that come with Massachusetts municipal debt investments. For institutions and large entity investors, there is the Legg Mason Partners Massachusettes Muni Fd Cl I, with ticker symbol LHMIX. There is also the Eaton Vance Massachusetts Municipals Fund Class I, symbol EIMAX, and both of these institutional no load bond funds offer lower expenses but have much higher minimum investments required.
No matter which Massachusetts municipal debt mutual funds you choose to invest in, picking true no load funds means seeing significantly less deducted for fees and expenses. Load funds do not outperform no load funds, but they do cost quite a bit more for the investor. The load fees are comparable to sales commissions, which are paid to the broker who directs you on where to invest. Unfortunately, that same broker may also receive a kickback or financial commission from the mutual funds as well, for bringing in new investments. At times this may lead to you getting investment advice based on the best financial interests of the broker, rather than getting honest advice on what investment choices are best for you. With no load bond funds and no load index funds you do not pay any load fees, and you are also responsible for doing all the work and research to determine which funds are right for you. There is no advice available from a broker, but if you are uncomfortable and feel like you need advice it may be worth the small amount needed to pay for an hour or two with a professional financial advisor. This will allow you to guarantee unbiased and impartial advice, and you will still be the one making all of the investment decisions concerning the best Massachusetts municipal debt no load mutual funds.