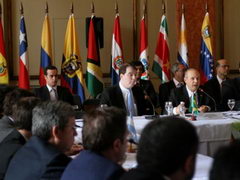 Latin American funds can include no load bond funds as well as other types of Latin American mutual funds
Latin American mutual funds invest mainly in countries, companies, and areas that operate, trade, or are located in Latin America
No load bond funds are mutual funds which invest in bonds, including municipal bonds, instead of stocks or money market instruments
Latin American funds are mutual funds which invest mainly in Latin American areas or a single country which is located here, and these funds normally invest in equity securities. Latin American mutual funds usually include no load bond funds, and these may be perfect for some investors while being bad choices for others. There are many Latin American funds to choose from, whether the funds desired are loaded or no load. These funds may have a wide variety of holdings in many different markets and sectors, with the main criteria for fund investments being that the investment has operations in Latin America or that there are trading markets for the investments located in this area. No load bond funds mean that there are no load fees charged, helping keep fund expenses lower, but the investor must do all of the required work and research to locate and compare possible fund choices. This is not usually a problem for most investors, because many financial and investment websites offer free fund research and comparison tools to make this job simple and quick. Investors who are willing to do the work instead of relying on professional investment advice can see significant savings, which in turn increase the value of the fund investment.
One of the possible Latin American funds which is a no load fund is the T. Rowe Price Latin America Fund. This fund trades under the symbol PRLAX, and is considered one of the best Latin American mutual funds by many investors and experts. Morningstar has given this specific fund a four star quality fund, making it one that should definitely be considered. Net assets are values at more than one and a half billion dollars for the fund, and it is managed by Lead Manager Jose Costa Buck. The T. Rowe Price Latin America Fund was started in 1993, and has a solid performance history since then. The minimum investment needed is only twenty five hundred dollars, which is simple for most investors. Holdings for this Latin American fund include the Brazilian Petroleum Corporation, Wal-mart de Mexico S A B de C V, Grupo Financiero Banorte SAB de CV, Banco Bradesco, Petroleo Brasileiro, Itau Unibanco Banco Multiplo Sa, Sao Pfd, and Perdigao S.A., among others. This is one of the Latin American funds that is chosen by many investors, and it is one of the true no load funds that should never be lightly dismissed.
Latin American funds include the JPMorgan Latin America Select fund, with the ticker symbol JLTSX. Offered by the JPMorgan fund family, this mutual fund has a year to date return which is in the high forty two percent and a yield of more than three percent. The fund has only been investing for two years, but this does not mean it should be ignored because it has a lot to offer to many investors. It meets the specific definition of Latin American funds, because most of the fund investments are centered in this region. Large growth investments is the investing style of the fund, and Sophie Bosch is the fund manager. One million dollars is needed to invest in this fund, and the operating expenses may seem a little high to some at one point sis seven percent. Top holdings for this specific fund include stocks from companies including Grupo Televisa, Brazilian Petroleum Corporation, Companhia Energetica Minas Gerais CEMIG, CTEEP Cia Transm Energia Eletr Paulista, Itau Unibanco Banco Multiplo Sa, Sao Pfd, Vale (ADR), and many other well known companies which many Latin American funds invest in. Regardless of which Latin American mutual funds are chosen to invest in, no load funds means using caution and doing the required legwork before decidin on which funds to use.