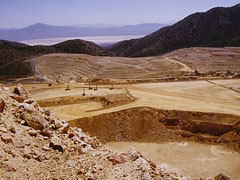 Mining is a hugely expensive business. It is both capital- and labor-intensive, from finding the minerals themselves to extracting and refining them. So, it is common for mining companies to raise funds by tapping the equity market and selling stock. However, a lot of mining companies end up bankrupt instead of hitting the jackpot. If you are considering investing in mining, you should really do your research to avoid some fundamental pitfalls.

The key point in how to invest in mining is to find a company that is on the verge of a discovery of large deposits of diamonds, gold, platinum, silver, or another similar commodity. These companies can be found on the major stock exchanges in the U.S. and internationally. You may also consider penny stocks, but this is a risky option, because behind a penny stock could be a company that is performaning poorly (which is why research is so important).
Another option for investing in mining is something called junior mining stocks. These usually represent smaller companies that are just starting their exploration. It is much riskier investing in a junior mining stock for obvious reasons like the possibility of them not making a discovery, but the returns on investment could potentially be astronomical. It is up to you to judge whether investing in a junior is worth the risk.
The next point to consider in how to invest in mining is timing. The best time to buy a stock in mining is just before the company begins to drill a discovery hole. This can be very difficult, however, as sometimes the company has to drill in as many as 600 locations in order to find one viable ore deposit. There is usually more exploratory drilling going on when precious metal prices go up because the companies have extra money to spend. It is relatively easy to pinpoint when the company has made a legitimate discovery because that's when the company starts investing heavily into it, even though precious metal prices may be declining at the time.
If you want to stay on the safe side when investing in mining, then you should consider buying either an index or a mutual fund. Investing in one company is always risky, so purchasing an index allows you the benefits of navigating the actions of the whole sector instead. Some examples of indexes include the XAU – Philadelphia Gold and Silver Sector Index, the HUI – AMEX Gold BUGS, and the GDX – Market Vectors Gold Miners ETF.
If you are very adamant about playing it safe, an even better option is mutual funds. These may have higher costs and be less liquid and not as focused as ETFs, but they can give you wide exposure to mining companies. A good example of such a mutual fund is the VGPMX – Vanguard Precious Metals and Mining, which is usually levered to gold and its miners.