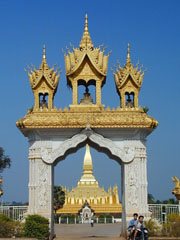 In February 2011, I took a three-week trip to Laos, and it will be remembered for a number of reasons. The food, the kindness of the people, the intense 12-hour bus rides, the immense limestone karst formations, and last but not least, the number of times that I heard statements such as: "Laos is the new gold rush," "this country is just overflowing with opportunities right now," "investors have realized that now is the time to invest in Laos."
Well, I am now looking into the opportunities that business in Laos is offering, and in this article I have compiled a list of the 6 major areas of opportunity for investors looking to do business in Laos:
Invest in Laos Opportunity 1 – The Energy Sector
Laos has vast hydropower potential, and has stated that it aims to become the "battery" for South-East Asia. The current electrification level in the country is 60 percent, and by 2020 the government aims to increase this to 90 percent, accounting for the large population growth. The government also aims to increase revenues from export power commitments. To meet these goals, the country is actively attracting long-term foreign investment into this sector.
Invest in Laos Opportunity 2 – Mining
This is the fastest growing sector in Laos, and has been identified as the key sector for private investment. Only 30% of the territory of Laos has been explored, and 650 locations have been identified as containing metal ores. The Department of Geology of Laos reported that the country has 500-600 tons of gold, 8-10 million tons of copper, and 2 to 3 million tons of zinc. Production in this sector is projected to increase by 300% in 2025 from today's level.
Invest in Laos Opportunity 3 – Tourism
Between 1995 and 2010, the number of tourists visiting Laos increased by 600%, and in 2010 reached 2.1 million. Not bad for a country with a largely rural population of less than 6 million. Year on year growth of 15% has brought great benefits to locals, and investors. The government is now implementing a National Tourism Development Strategy and is well and truly open for business.
Invest in Laos Opportunity 4 – Agriculture
Low land prices, low rents and low tariffs and duties on exports make this a very attractive country to foreign investors interested in the agricultural sector. As agriculture converts from subsistence to commercial, there are a large number of promising opportunities. Organic production for export is being pushed by the government, as well as contract farming for rice and maize.
Invest in Laos Opportunity 5 – Forestry
The government is particularly keen to promote sustainable forestry practises, and bona fide investors in this sector are now particularly welcome. The demand for its forestry products are expected to grow rapidly over the next decade.
Invest in Laos Opportunity 6 – Natural Rubber Industry
This industry has blossomed in Laos in the last decade, and is set to really take off in the next decade, with production projected to increase by ten times. With Chinese and Vietnamese players already active in this sector, Indian and Scandinavian companies are now moving in. Expect huge profits to be made.
For more information, go to:
http://www.unctad.org/en/docs/diaepcb201002_en.pdf