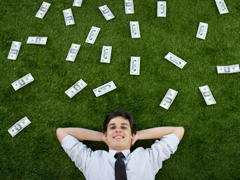 In the last ten years, many retirement portfolios have run the gamut of being reduced to a minimum, all the way to non-existence. Retirement plans have been changed and extended due to the major losses in portfolio investments. The heartbreak of losing a retirement fund that one has worked their entire life towards, has made investors skiddish. Some of the more adventurous investors are raising their heads and actively seeking alternatives for the investment dollars that they have left. No load funds have been in the fray for quite some time, but the question remains: are no load funds the best direction to take for a retirement portfolio?
If you are an investor that has been tainted by financial advisors that failed you in the past and are selecting the path of a do it yourselfer, you need to understand that you will need to have the knowledge base of a professional. Good no load funds can perform just as well as load mutual funds over the long term. But, those are the key words 'long term'. There is a family of fund companies that offer a variety of target dates for maturity. Choosing a no load fund target date will depend upon your plans for retirement (or adjusted plans for retirement).

Selecting good yield no load mutual funds in a mix can assist in off setting any of those that don't perform as well as expected. Luckily, there are a number of these available. Doing research using reliable ranking companies, combined with detail reads on the prospectus can help you narrow down your choices. Some of the better no load funds also offer low initial dollar investment. This gives you the ability to add a variety of funds to your portfolio.
Funds are ranked with the 'star system'. Two and three star rankings have been shown to almost be equal. They are the riskiest investments, but are usually lower in cost. Five stars is the highest ranking and also have a higher cost associated with the investment. Portfolio turnover is another consideration. If a fund has a high turnover, it is not the investment to consider when talking about your retirement dollars. If you do the research, you will find there are quite a number of good, five star no load funds with reasonable costs and low portfolio turnover. Some have been designated as the best for retirement investment.
You may want to use the assistance of a totally reliable investment counselor. This will save you time and money. However, use the buyer-beware concept. Make sure the counselor is completely independent and does not receive a commission for recommending specific funds.
There are no easy answers, and every choice you make will require a bit of work on your part. Whether you choose your own funds or work with a counselor, you will also want to try to stay on top of the investment news. Using reliable internet resources makes this portion of work a lot simpler.