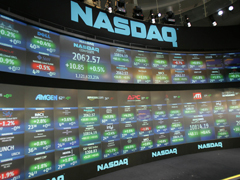 Perhaps the wisest investment strategy is getting some long term stock investments in your portfolio. This way you will enjoy low transaction costs and an almost guaranteed growth. Here are 5 examples of long term growth stocks that should be part of a well-rounded portfolio:
1) GE – General Electric (NYSE: GE)
GE has done quite well in the last few years to reposition itself to be the leader of the current global economic trends. GE currently has the leading market share in hybrid locomotives, jet engines, and other transportation equipment industry. The company builds energy-efficient, state-of-the-art power plant equipment, involving both fossil fuels and alternative energy. GE also finances products having to do with global infrastructure and its health care technologies platform is highly developed. This is an excellent choice for long term stock investments.

2) Cisco Systems (Nasdaq: CSCO)
This company generates an annual cash flow of about $10 billion and its sales have risen by at least 10 percent for the past 7 years. There is also an annual $5 billion expenditure on R&D (Research and Development). This way Cisco ensures that its future products are going to continue being leaders in major technology trends. This is another excellent choice of long term growth stocks.
3) Ford Motor (NYSE: F)
An amazing turnaround can easily be attributed to this automaker. Ford was on the verge of bankruptcy not too long ago, and had to deal with major cost cuts, but coming up with a great collection of new cars, Ford was up and running smoothly again in no time. From 2008 to 2011 Ford's shares increased by some 1,000 percent, but now they have fallen again a little. However, for those interested in long term investments, this is a good time to buy – the best days for Ford are still to come.
4) Citigroup (NYSE: C)
At first this might look like a strange pick to add to your long term stock investments, since there was a lot of hassle for investors caused by Citigroup in the last few years. But now the reality is that Citigroup has been doing very well with restructuring itself and putting the company in the position of a major global player. What makes this choice attractive is that Citigroup is investing in emerging economies that are the most dynamic in the world.
5) Procter & Gamble (NYSE: PG)
Procter & Gamble is considered a "consumer staple stock", which very beneficial for a long term portfolio. A "staple stock" is an example of a company that has been around for decades of even more than a century, like Crest, Tide, and Bounty. Procter & Gamble's growth may seem slow, but it is steady. They are also involved in investing in some of the most dynamic emerging markets in the world, like Brazil, India, and China.
For more information go to: http://corporate.ford.com/investors